Welcome to the official homepage of
The FlyLife Radio Program v2.0
updated 11/15/01

FlyLife is a two hour electronic music transmission presented on CJAM 91.5fm Wednesday night 12 till 2am. Our signal dances across the border and into the heart of Detroit city. We also corrupt our Canadian listening constituency throughout Windsor and it's surrounding area. CJAM also broadcasts via a Realaudio stream to the connected universe. Jak in, amplify, and feedback. Sign the guest book, email us, call in to the show or drop us a letter. Your input helps us grow.

THIS IS NOT OVER YET....

After three long years of banging out the best electronic music program Little j is forced to pass the mic upon his exit from the city. I know we've been through his before but this time it seems pretty much unavoidable. But not to worry we're going out with a solid final month of special guests followed by Finale party guaranteed not to disappoint. Whether Jim, ECN or Spencer take the reigns remains to be seen, for now I ask you to just smile and hold on for the ride :)
Little j

Come on out and celebrate three years of Flylife Radio. This is also Little j's going away party. Wish him luck on his move to Toronto.
Click on this or the image for my summary of the other parties.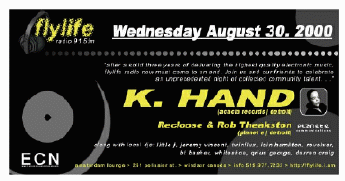 *in association with the lovely people from*



See you all tonight. *j*

Front Back
10-10:45 10-10:30ish
Darren Craig nobody/if busy BT Basher

10:45-11:30 10:30ish-11:30
Jeremy Vincent Scott "Whiteshoe" Soulliere

11:30-12:30 11:30-12:15
Remo&Renaldo(twinflux) Rob Theakston

12:30-1:15 12:15-1:00
"Qrius" George P. Recloose

1:15-2ish? 1:00-2:ish
DJ Revolver Kelli Hand

aprox. 2am aprox 2am
Little j&Iain Hamilton Whiteshoe vs. Brendon

News:
THANKYOU!
I may be far from Detroit but I can still feel the beat. See you all soon, thanx for the memories. *j*
---
Read the special *announcement*
---
Have something to say? Go to feedback to reach us. Send us your shout outs or requests and we'll get them on the air. We check email in studio.

---
Sign the Guestbook
---
Listen to FlyLife over the Internet in RealAudio format. Need RealPlayer?


---
The now infamous
Krakhaus studios live feed

Buggy, sketchy and often off! But when it's good it's ohhh so good.You need Winamp/Real 7 for this.